kali ini dengan topik bahasan baru, yaitu mengenai seiyuu (voice actress a.k.a pengisi suara) dan seiyuu pertama yang aku pilih untuk dibahas adalah Haruka Tomatsu (Tomatsu, Haruka) :)
Oke langsung saja, mari kita mengenal lebih dekat dengan seiyuu kita yang satu ini....
Profile

:
Name :
Haruka Tomatsu
(
Tomatsu, Haruka '戸松遥')
Birthday :
4 Februari 1990
Birthplace :
Ichinomiya, Aichi,
Japan
Blood Type :
B
Height :
165 cm
Units :
The Children
(2008-2009)
Eclipse
(2009)
Sphere
(2009-)
Summary:
Haruka Tomatsu lahir di Ichinomiya, Aichi pada 4 Februari 1990, ia memulai debut sebagai seiyuu pada tahun 2007, membintangi Shinkyoku Sōkai Polyphonica sebagai Corticarte Apa Lagranges. Sejak itu, ia telah memiliki peran utama lainnya seperti Lala Satalin Deviluke di To Love-Ru, Shiho Sannomiya di Zettai Karen Children MM di Kemeko Deluxe, Nagi di Kannagi, Sakana-chan di Star Driver: Kagayaki no Takuto, Naruko Anjou di Ano Hana, Asuna Yuki di Sword Art Online dan Shizuku Mizutani di Tonari no Kaibutsu-kun. Sebelum lulus dari sekolah tinggi pada tahun 2008, Haruka Tomatsu dulu tinggal di Ichinomiya di mana ia sering mengambil Shinkansen, perjalanan bolak-balik antara Nagoya dan Tokyo untuk menghadiri rekaman.
Selain sebagai Seiyuu, Haruka Tomatsu merupakan penyanyi dibawah naungan label musik Ray'n (sub label Sony Music Entertainment di Jepang) Haruka Tomatsu juga ikut ambil peran mengisi beberapa OST.Anime. Ia memulai karir penyanyinya pada bulan Mei 2008 dengan The Children, sebuah unit khusus yang dibentuk bersama Aya Hirano dan Ryoko Shiraishi untuk menyediakan lagu tema 'Zettai Karen Children'. Pada bulan September 2008, ia merilis single solo pertamanya, naissance, ending dari Koko wa Greenwood. Dengan popularitas perannya dalam Kannagi, single kedua dan ketiga, motto ☆ Hadenine! dan Musuhi no Toki menduduki di tangga lagu Oricon mingguan di urutan #10 dan #21. Pada musim semi 2009, Haruka Tomatsu membentuk dua unit idola bersama pengisi suara lainnya: Eclipse dengan Saori
Hayami

, Megumi
Nakajima

dan Sphere dengan Ayahi
Takagaki

, Aki
Toyosaki

dan Minako
Kotobuki

.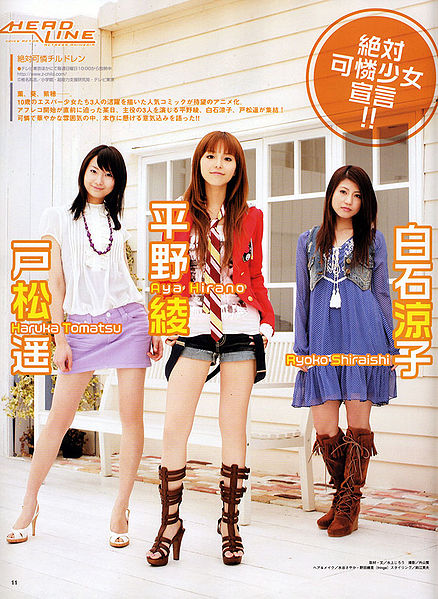 the children merupakan un

it grup idol pengisi suara

yang didasari dari grup fiksi

Manga Zettai Karen Childre

n

dengan nama yang sama
Sphere: dari kiri ke kanan: Haruka Tomatsu, Minako Kotobuki, Ayahi Takagaki, Aki Toyosaki
Berikut beberapa peran utama yang diperankan Haruka Toma

tsu:
Shiho Sannomiya (Zettai Karen Children)
Esper dengan Tingkat 7 psikometri, Shiho adalah sarkastik, berlidah tajam dan sering menjadi sadis kekanak-kanakan anggota "The Children" Tim Esper khusus bersama Kaoru dan Aoi. Meskipun awalnya tidak mampu berbuat banyak selama misi, selain mengumpulkan informasi yang tidak jelas dari lingkungan, Shiho tetap mendukung rekannya dengan melakukan apapun yang dia bisa, termasuk menjadi satu-satunya anggota tim pemegang pistol yang diberikan ayahnya, yang dikombinasikan dengan kekuatannya 'memberikan akurasi supranatural'
Nagi (Kannagi)
Nagi

adalah dewi

yang terbangun

setelah bertahun-tahun

tidur

dengan

bantuan

Jin

tak terduga

.

Misinya

sebagai dewa

adalah untuk

membersihkan

kotoran

dari

dunia

,

tetapi sejak

kekuatannya

melemah

seiring waktu

,

tubuhnya

mudah

dirugikan

oleh mereka.
Rouge (

Basquash!)
Salah satu dari tiga idola dari grup idola Eclipse. Dalam grup dia adalah yang tertua. Perasaan akan irama luar biasa, dan menari adalah titik kuat nya. Dia memiliki kepribadian yang kompetitif tetapi dari waktu ke waktu terlihat sisi manisnya.
Naruko Anjou (Anaru) (Ano Hana)
Naruko

adalah

teman masa kecil

Jinta

dan

Menma

.

Sementara dia

menampilkan

sikap

dingin terhadap

Jinta

,

dia

diam-diam

prihatin

untuknya

.

Dia

mungkin

yang paling dekat

dengannya

saat ini

dan

terdaftar

di sekolah yang sama

(meskipun

Jinta

berhenti sekolah

).

Komentar

Chiriko

bahwa

Naruko

tidak berubah

selama bertahun-tahun

:

dia masih

mudah

dibujuk oleh

semua orang di sekelilingnya

.

Naruko

tampaknya menjadi populer

di sekolah tinggi dan

bisa bergaul dengan baik

dengan

gadis-gadis yang

Chiriko

anggap

"

pelacur

.

"
Asuna Yuuki (Sword Art Onl

ine)
Asuna

adalah teman

Kirito

dan merupakan

sub

-

pemimpin

serikat

Knights

of Blood

(

KoB),

sebuah serikat

menengah

sekitar

tiga puluh

pemain

,

juga disebut

serikat

terkuat di

Aincrad

.

Menjadi

salah satu dari beberapa

gadis

yang berada di

SAO

,

kelebihannya

dia

sangat cantik

sehingga

dia menerima

banyak undangan

dan proposal

.

Dia

adalah pemain

yang terampil

produktif

dengan

"Flash"

untuk keterampilan

pedang

yang luar biasa

, yaitu

menggunakan pedang secepat kilat

.

Nama

Permainan

alias

nya

sama dengan nama

dunia nyata

nya

.
Shizuku Mizutani
(Tonari no Ka

ibutsu-kun)
Shizuku

adalah

protagonis perempuan

dari cerita

.

Seorang siswa

SMA yang

hanya

berpikir dan

tertarik

tentang belajar dan

mendapatkan

nilai

terbaik di

kelas

dan tidak memiliki

perasaan

untuk hal-hal

lain atau

orang

di sekitarnya

.

Dia bertemu

Haru

Yoshida

untuk pertama kalinya

untuk memberikan

cetakan

kelas

kepadanya

.

Awalnya

tidak peduli

untuk dia,

karena mereka

bergaul

,

perspektif

hidupnya

berubah

saat ia mulai

mengalami hal-hal

di luar

belajar

dan perasaan

yang tidak pernah

dirasakan sebelumnya

.
TV Animation
2007
2008
2009
2010
2011
2012
2013
OVA
Video Games
Drama CD
Discography:
Albums
Rainbow Road (February 24, 2010)
Sunny Side Story (January 16, 2013)
Singles
~~~~~~
Wah ternyata capek juga membahas tentang seiyuu (padahal kebanyakan copas :D), apalagi seiyuu yang perannya udah kemana-mana (berperan dalam banyak anime maksudnya), ngelirik keatas tulisan udah panjang...
Baiklah sekian dulu topik bahasan mengenai Seiyuu 'Haruka Tomatsu', kita bertemu dengan bahasan Seiyuu lainnya.... :)
Source:
wikipedia.org
generasia.com
myanimelist.net